Most business owners and operators are aware of the importance of registering their trade marks as they help distinguish the business and protect it from competitors. Trade marks are also a business asset that grow in value as you build the reputation, goodwill and overall success of a business, making it an asset that is increasingly important to protect. 
Registering a trade mark takes time. Sometimes it can feel like it takes forever but there is a reason! When an application for the registration of a trade mark is lodged, the law allows a period of 7.5 months for the process, including a period of two months during which a trade mark is advertised publicly. This is done in order to allow interested parties to file objections to the registration of a trade mark. This is called the 'opposition period'. 
Any third party can file a Notice of Intention to Oppose to IP Australia. However it must fall within at least one of the accepted grounds for opposition set out in the Trade Marks Act 1995.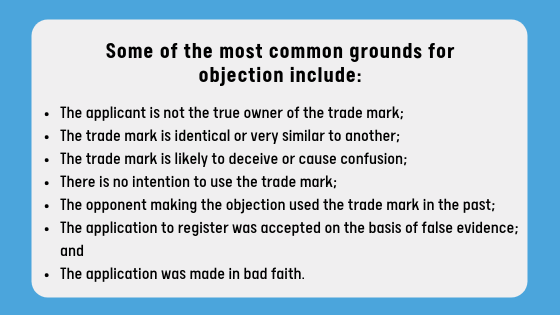 What can you do if your trade mark is opposed?
If someone opposes the registration of your trade mark, you will receive a copy of the notice of intention to oppose and the statement of grounds and particulars.  
If your trade mark application is opposed the onus is on you to defend your trade mark or you potentially risk losing it. If you wish to defend the opposition, you must file a notice of intention to defend within one month of receiving the statement of grounds and particulars on which your trade mark is being opposed.  
Once this part of the process is done, the next step in the opposition process is evidence. A decision on the opposition will not be made until the evidence stages are complete. This is a process that needs to be completed within a three month period. 
After the opponent and the applicant have exchanged evidence, a hearing may be requested by either party for a decision to be made about the trade mark registration.
The process involved in not only opposing a trade mark but in responding to an intent to oppose can be quite lengthy and complex. With trade mark matters such as these, it is wise to seek legal guidance to ensure an efficient and optimal outcome for your business. 
A great example that highlights the importance of registering a trade mark involves an Australian clothing company that took on Time Warner and won.
In 1997, long before the publication of the Harry Potter book series, there was an Australian clothing company, Stepsam Investments Pty Ltd that created the name 'harry potter' for a line of women's clothing. 
Fast forward to 1994, their shops had sold hundreds of thousands of units of 'harry potter' clothing and by the year ended 30 June 1998 they had achieved sales exceeding $9,000,000. In 1998, they applied to IP Australia to register the trade mark 'harry potter' in respect to clothing. Even though at this point in time the first JK Rowling book has been published, it was yet to become a publishing phenomenon. 
However, in due course, Time Warner opposed Stepsam's application to register the trade mark 'harry potter'. At first the Registrar of Trade Marks dismissed the opposition and permitted the application to proceed. Time Warner chose to appeal this decision with a modification that required Stepsam's trade mark to be limited to adults' clothing. 
Stepsam rejected this, arguing that it was entitled to have the trade mark registered in relation to all types of clothing. An argument they won. They continue to own the trade mark 'harry potter' to this day.
The morale of the story? Protecting your IP and trade marks is essential. Thanks to Stepsam's proactive approach to protecting and defending their own IP and business, they were able to reach a positive outcome for their business, even against an international organisation the size of Time Warner. 
If you have any questions or would like assistance with your trade mark, please contact the team at Antcliffe Scott.